SQLSaturday is an all-day conference and training event which is taking place in 2018 for the fifth time in Austria. As part of more than 30 presentations, the participants work with issues related to Microsoft SQL Server and the Microsoft Data Platform. Thanks to numerous sponsors, which this time include DBPLUS, participation is free of charge.
DBPLUS represented as a Platinum Sponsor
After successful events in recent years, beginners and professionals who want to expand their knowledge about topics such as SQL Server, Power BI, Azure, R, or Python are meeting in Vienna on Friday, January 19, 2018 for SQLSaturday #679. For the first time, the software manufacturer DBPLUS will be on site as a Platinum Sponsor. For over 15 years DBPLUS has been developing solutions for performance monitoring and optimization in the area of SQL-Server databases. In addition, the portfolio also includes an intuitive software solution for data replication. Visitors to SQLSaturday have the opportunity to learn about the products in detail. "We are delighted to be able to support the SQL user group in Austria with our sponsorship and to further consolidate our international involvement," says Grzegorz Wrzosek, Business Development Manager at DBPLUS.
Presentation on SQL Query performance monitoring and analysis
The Remshalden-based webtelligence IT consulting GmbH is the exclusive distributor of DBPLUS products in Germany. As part of a presentation at 1:00 p.m., CEO Michael Roedeske will discuss the DBPLUS Performance Monitor software. "I look forward to presenting on SQL Query Performance Monitoring and Analysis with the DBPLUS Performance Monitor using concrete practical examples," the database expert added.
The presentation will also include information about how the SQL queries that are a load on performance are identified among the thousands of others. In addition, the discovery of changed implementation plans, identifying relationships between tables and queries, and historical load profile comparisons will be a part of the presentation. "I will also show how starting instance-wide, cross-database analyses without T-SQL can be implemented in an intuitive graphical interface as early as with SQL Server Version 2005 without the Query Store," the webtelligence CEO explained.
DBPLUS and webtelligence came up with something special as a prize for the quiz that will take place as part of the event. "We're providing an app-controlled Sphero Star Wars robot BB-8 Droid," says Roedeske.
More information at www.webtelligence-itc.net and http://www.sqlsaturday.com/679
UPDATE:
A great time in Vienna together with almost 300 professionals.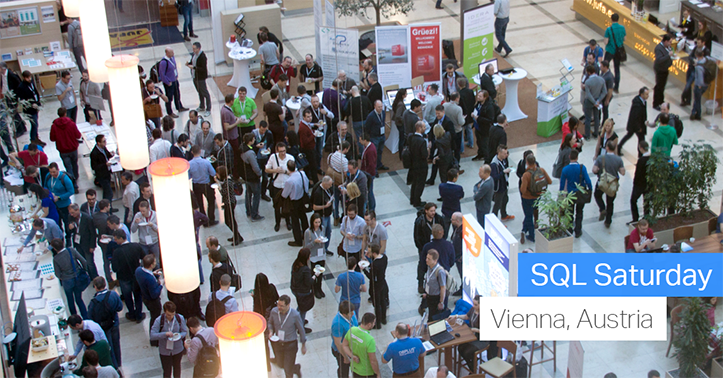 Our special award app-controlled Sphero Star Wars robot BB-8 Droid went to Zoran Orlic from Serbia. Congratulations and we wish you great fun with it!!