for Oracle, Microsoft SQL Server and PostgreSQL
DBPLUS Performance Monitor
A state-of-the-art tool for precision monitoring and analysis of database performance.
Key features:
Rapid analysis of performance trends thanks to collected history of database metrics
Minimal DB engine load from monitoring tools
Users do not have access to business data in monitored databases
Intuitive interface and simple navigation for business systems administrators
Systematic updates and adaptation to the client's needs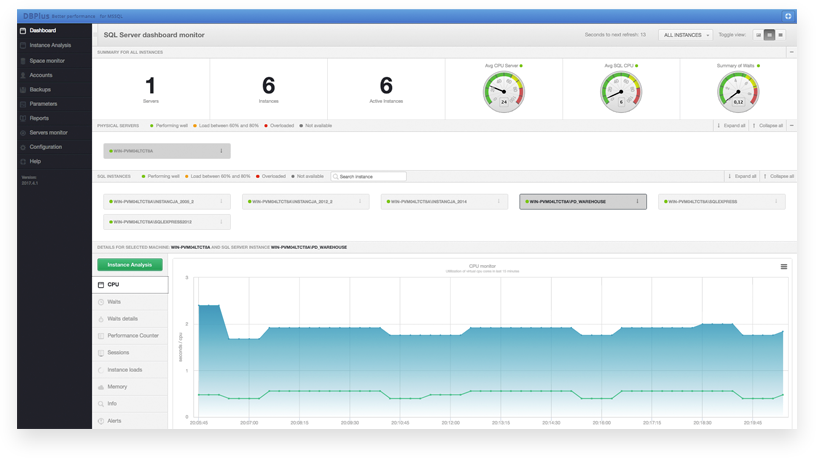 for Oracle, Microsoft SQL Server and PostgreSQL
DBPLUS Data Replicator
A reliable tool for real-time business data replication between databases.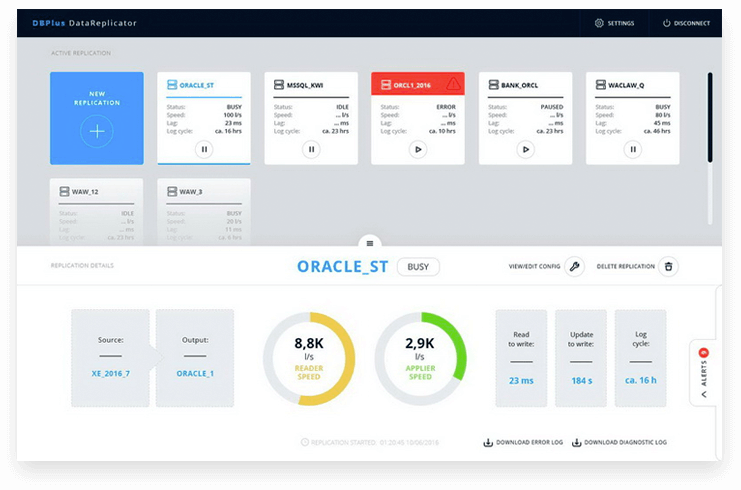 Key features:
Replication of business data without reducing transaction system performance
Consolidation or distribution of data in systems with different versions of a database and different operating systems
Possibility of improving OLTP system performance by separating OLAP operations (Real-Time Operations BI)
High performance and reliability solution for high data volumes
Data replication in On-premises and Cloud systems
for Oracle and Microsoft SQL Server databases
Performance on demand
One-time optimisation of Oracle or Microsoft SQL performance to a level agreed upon with the client.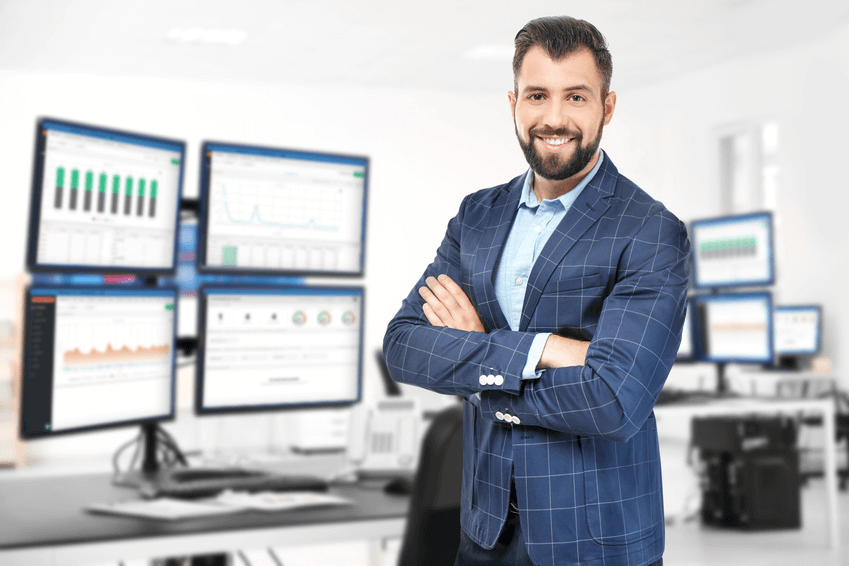 The service covers:
Analysis of database performance issues including those defined as critical
Searching for bottlenecks and SQL queries which can be optimised
Achievement of a guaranteed optimisation level for each database as defined by DBPLUS
Implementation of changes at the database level without interference in the application code
Before and after benchmarking and performance results testing
Recommendations and best practices for maintaining the current performance level addressed to database administrators
See our results
for Oracle and Microsoft SQL Server databases
Performance management
DBPLUS takes responsibility for maintaining the client's database performance levels for a period of 12 or 24 months (SLA).
The service covers:
24/7 database monitoring
Constant performance analysis
Instant diagnosis and solutions for problems with performance of the databases entrusted to us
Guaranteed maintenance of a set performance level for the entire duration of the service agreement
Recommendations of best practices for the client's programmers/administrators
See our results