A state-of-the-art system for monitoring and analysis of database performance.
All-inclusive and easy-to-use intuitive software which shows database performance problems in a clear way, yet is also able to precisely indicate their causes. One of the main issues in effectively providing IT services is maintenance of adequate performance levels of the system.
Frequently, the only solution that many companies can offer to these problems is investment in larger, more efficient servers. Unfortunately, this does not always bring the anticipated results despite high expenditures. Optimisation of business system performance on the level of existing databases can be an effective solution to these problems.
Instead of investing in hardware, performance problems can be more effectively solved by using the appropriate database optimisation at the level of the most overloaded SQL queries. To optimise a database, it is essential to locate bottlenecks and understand why they arise.
Key features:
Rapid analysis of performance trends thanks to collected history of database metrics
Minimal DB engine load from monitoring tools
Users do not have access to business data in monitored databases
Intuitive interface and simple navigation for business systems administrators
Systematic updates and adaptation to the client's needs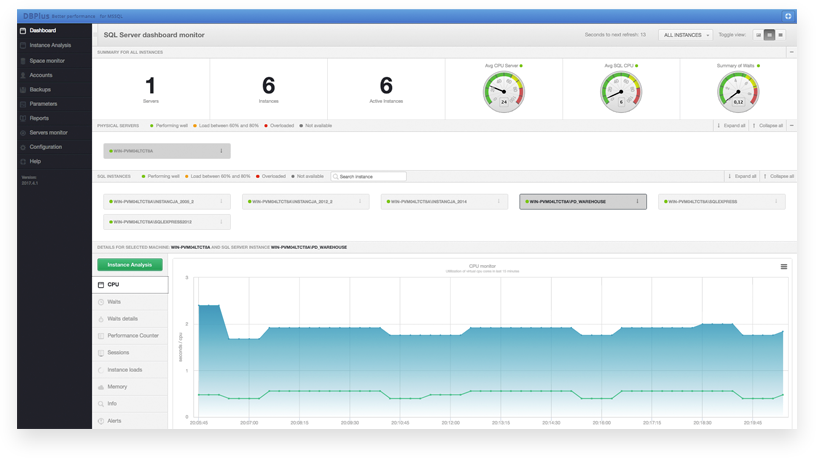 Overview
Resources
KNOWLEDGE BASE
FAQ
Q&A
Watch a short introductory video
Familiarise yourself with the main application screen and configuration possibilities of the dashboard, as well as how to access basic and advanced parameters of the monitored databases. Thanks to its intuitive design, DBPLUS Performance Monitor™ can be used not only by database administrators but also by other IT specialists, such as application developers or administrators, making cooperation within the organisation easier and accelerating problem solving.
The application architecture makes use of an IIS server to allow many users access to the app via an Internet browser. This significantly accelerates implementation of DBPLUS Performance Monitor™ in the organisation, as it is not necessary to install client software at the workstations.

A focus on the causes and source of problems
The whole philosophy of the tool's creation is focussed on finding the real causes of efficiency problems. The system enables easy comparison of data and parameters in various sections over time. It allows one to quickly find problematic SQL queries and to understand why they are the cause of existing problems with performance efficiency.

Intuitive interface
The software has a very intuitive interface, easy to use even for users without much experience in the tuning of database efficiency.

Minimal processor load
It does not generate a noticeable load on the CPU. Other tools for measuring database efficiency generate problems related to their load on processors of the database for collecting necessary information. Sometimes this requires even 4 CPU power.

Collecting SQL statistics every 15 minutes
Our software collects statistics in time intervals of every 15 minutes, and one such cycle lasts from 5 to 30 seconds depending on the size of the database. Such an approach guarantees that the load on the database will be minimal and imperceptible even in the largest and most heavily loaded business systems. Our solution is designed in order to allow the highest number of users access to the monitoring system, without influencing the efficiency of the monitored base.

Regular updates
In order to guarantee users the highest quality, our software is constantly improved. Over a year, at least 4 new updates of DBPLUS Perfomance Monitor™ are released.

Support at the highest level
The support provided to users is provided by the technical teams directly engaged in the process of creating the software, among others.

Flexible pricing policy
The TCO indicator, i.e. the solution capabilities of DBPLUS related to the cost of purchase and use, is in the case of our software unattainable for our competition.
Knowledge base
Performance_Monitor_for_MSSQL_EN

Performance Monitor Overview (SQL Server)
A general guide to the software: solution architecture, connecting the database to monitoring, main functionalities, access management (Security module), Anomaly Monitor.
Performance_Monitor_for_Oracle_EN

Performance Monitor Overview (Oracle)
A general guide to the software: solution architecture, connecting the database to monitoring, main functionalities, access management (Security module), Anomaly Monitor.
Performance_Monitor_for_PostgreSQL_EN

Performance Monitor Overview (PostgreSQL)
A general guide to the software: solution architecture, connecting the database to monitoring, main functionalities, access management (Security module), Anomaly Monitor.
Load-Trends-Analysis_Compare_EN

Load Trends (Oracle)
Module that allows to check load trends in a given database. Check the Load Trends Analysis, Compare Days and Compare Periods.
Perf_Counters_EN

Performance statistics (Oracle)
A set of information about database performance presented in a Performance Counters form.
IO_EN

I/O Stats (Oracle)
A set of information about I/O, backup and log files.
Latch_Library_cache_EN

Latch Library cache (Oracle)
The function that allows to check which queries are the cause of generating latches in the buffer.
Latch_Undo_Global_Data_EN

Latch: Undo Global Data (Oracle)
Analysis of the problem with "Latch: Undo Global Data" wait – as a result of problem with access to UNDO space queries.
Query_locks_EN

Query locks (Oracle)
Identification locks issues, locks analysis, verification of the cause of the locks, session details.
Wait_TCP_SocketKGAS_EN

Wait – TCP Socket (KGAS) (Oracle)
Analysis of the problem with "TCP Socket (KGAS)" wait type.
RAC_support-_EN

RAC support (Oracle)
Real Application Clusters (RAC) support – preview, analisys, verification, session history, tracking locks in a given time, comparison of trends, report execution.
Query_Change_Plan_EN

Query Change Plan (Oracle)
The most common reason that worsens the database performance. How to find queries which change the execution plan.
Locks by Application Issues
Analysis of locks issues with the use of Performance Monitor.
Locks by Ineffective Query
Analysis of the problem of locks cause by ineffective queries on SQL Server and how users can solve it use Performance Monitor software.
Memory Usage Issues (SQL Server)
Analysis of SQL Server instance memory usage issues with the use of Performance Monitor.
Execution Plan Change
Analysis of performance problems which result from changing query execution plan with the use of Performance Monitor.
Ineffective Execution Plan
Analysis of performance problems which result from ineffective query execution plan with the use of Performance Monitor.
1. Do you offer support for a free test of your software?
When you want to test our software, we can support you with its installation and configuration. Additionally, we offer a free "Performance Audit" service, where we check performance and reports on system bottlenecks basing on the testing usage of our tool. If during the software test you encounter any problems with using it, you can contact us by telephone (6:00AM-2:00PM GMT) or send us a message by email, and we will provide you with support to solve the problem.
2. Can you test DBPLUS Performance Monitor?
You can download from our website installation version of our software and use the full version for 30 days. If after 30 days you do not want to decide to buy a full version license, the program will automatically switch to free mode, where advanced features are unavailable, but you can monitor the basic performance parameters.
3. What is the DBPLUS Performance Monitor license model?
DBPLUS Performance Monitor in both Oracle and SQL Server versions is currently licensed per database instance.
4. Is use of DBPLUS Performance Monitor safe to my database?
Our tool is perfectly safe to the database. It does not changes anything in the database on its own and is not generating any noticeable load for the database. Using our tool will never result in any data loss, slow down of the database or violation of the license agreement for your database and application.
Performance Monitor for Oracle
Performance Monitor for Microsoft SQL Server