Data Analytics 2018, which was previously known as the "Oracle Data Warehouse Conference,"

took place

this year on March 19 and 20 at Phantasialand Brühl, Germany and was very much influenced by digitization. DBPLUS, represented by webtelligence, was involved as an exhibitor and was there with a talk on real-time data replication.
It's all about data
The two-day "Data Analytics 2018" is a joint community and user conference from DOAG and Oracle. This year's theme was "Data as the motor of digitization." As such, the topics that are currently determining events are the focus – for example, Big Data, cloud, advanced analytics, and data warehousing to name but a few. The event is characterized by practical presentations and the extensive exchange of experiences.
In the course of progressing digitization projects in companies, efficient data management is becoming increasingly important. Of course Oracle databases are also no exception to this. This is where the product portfolio of the specialized software manufacturer DBPLUS, which is represented as a sponsor and exhibitor at the conference, comes in. The company develops tools for performance monitoring of databases and data replication.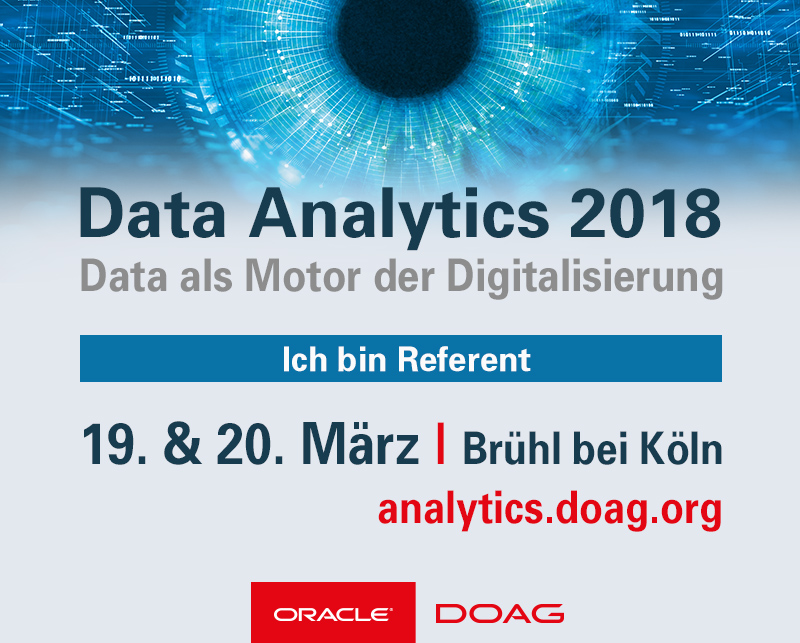 Talk on real-time data replication
The Data Analytics 2018 participants had the opportunity to choose from more than 30 practice-oriented, interesting talks. Michael Roedeske – who is responsible for the distribution of DBPLUS products in the German-speaking countries with his webtelligence IT Consulting GmbH – gave a speech. He talked about real-time data replication for improving performance and license optimization by separating OLTP and OLAP workloads. Using a practical experience report based on customer projects, the webtelligence CEO presented the benefits arising from the use of the DBPLUS Data Replicator™ software. In his examples, OLTP Oracle databases serve as the source system and Oracle, PostgreSQL, and Microsoft SQL Server databases as the OLAP target system for reporting purposes. One characteristic, among others, is that replication occurs with almost no adverse effects on performance, and yet with low latency.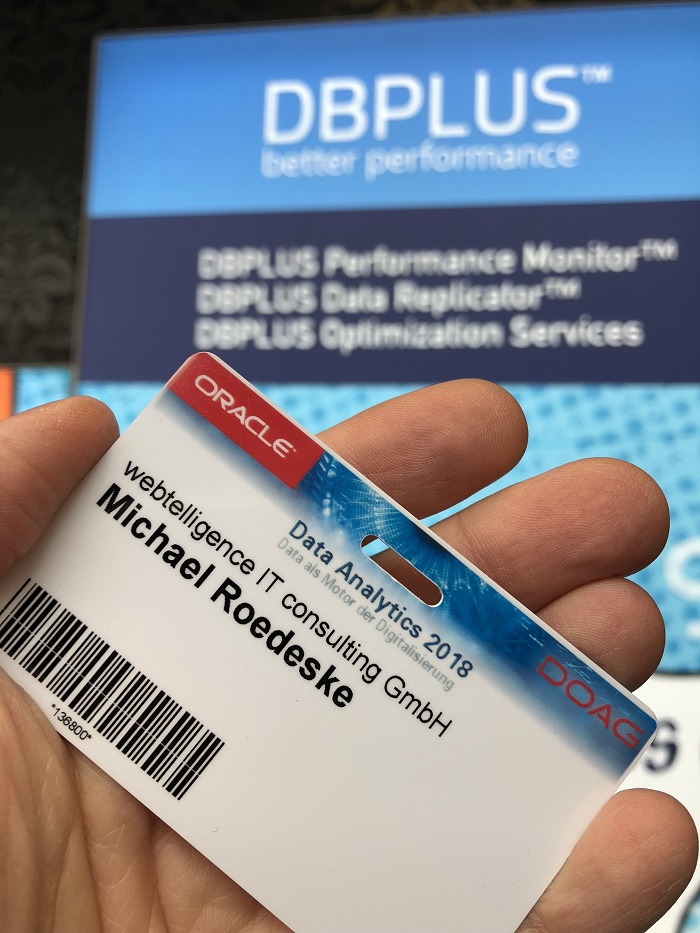 See you soon!
Thank you for your participation. See you in May at the DOAG 2018 Database Conference in Dusseldorf, Germany. Registration and additional information: https://datenbank.doag.org/de/home/