"Everything under one roof!" is the motto of the IT-Days 2019 from December 9th to 12th in the Cape Europa, the congress center of Messe Frankfurt. With 13 sub-conferences, the annual conference of the journal "Informatik Aktuell" offers a broad and intensive overview about software development, architecture and IT management.
The conference program this year includes more than 200 sessions, workshop, and keynotes, as well as evening events. This year the database days have been significantly expanded: On Wednesday and Thursday with three parallel tracks, you will learn a lot about topics such as Oracle, SQL Server, MySQL and MariaDB, PostgreSQL and DB2, NoSQL and NewSQL.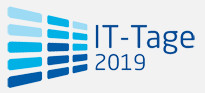 Don't miss the opportunity and visit the managing director of DBPLUS Germany, Michael Roedeske, who will give a talk about "Database performance Monitoring: Do You Measure Resource Consumption or Your Database Performance?" on Wednesday, 11 December 2019 at 13:30.
We will show what is the difference in monitoring performance by monitoring the consumption of database resources. We will consider the causes of performance problems; we will discuss issues related to them and we will determine whether the response time from the database can be measured in a simple way. This will be presented on examples using Microsoft SQL Server, Oracle or PostgreSQL databases.
Participants who register by 24/09/2019 will receive a 20% discount for the entire event.
Further information and registration at: www.ittage.informatik-aktuell.de, www.webtelligence-itc.net and www.dbplus.tech